Successful transfer of knowledge ensures a bright and flavorful hop future
A fourth-generation family hop farm, Sodbuster Farms started growing Strata for Indie Hops a few years back when acreage at their beautiful Mission Bottom location opened up. Situated along the fertile soil of the Willamette River, Strata has settled in nicely. "Strata is one of our easier varieties to grow. It doesn't seem to have the same susceptibility to disease and does fantastic in our Willamette valley soils!" states Erica Lorentz, who owns Sodbuster Farms along with her husband Jake.
Founded in 1958, the original farm grew a variety of crops including hops, wheat, clover, kiwis, apples, onions, sweet corn, bent grass, tall fescue — and at one point — even reindeer! In 1983, Doug Weathers and his wife Audrey took over and founded Sodbuster Farms, with a focus on growing quality hops and under their care expanded growing operations to 1300 acres of hops. In January 2023, Erica and Jake Lorentz took over operations.
"Growing up on the farm, I did not see myself continuing the legacy until my husband and I were presented with the possibility of moving our family back to Salem from central Oregon, and learning it from the ground up. It was a hard decision we had to make, but made the one that was best for our family and moved about a year later.  We spent the next 10 years learning all aspects of the business," states Lorentz.
Continuing the legacy of excellence in hop growing is central to ethos that this new generation brings to their farming operations, as is a commitment to sustainable growing practices, including being a Salmon-Safe certified farm. "Over the years, we have invested many dollars and hours to making our process not only safer for our employees, but also safer for our environment. We recognize that we are lucky to have such a fertile soil and climate to grow amazing hops, and we are diligent in making sure that we keep it that way for as long as possible," states Lorentz.
Alexa Weathers, Farm Manager at Sodbuster Farms, was especially excited when Strata became one of the fourteen varieties grown on the farm because of her special connection to the variety and its breeder. "I was a junior at Oregon State University in 2015 set in my plan to major with a degree in agriculture science and was already working 30 hours a week at Flat Tail Brewing in downtown Corvallis, but I wanted another job where I could gain actual experience relating to my major," states Weathers. "I looked on Oregon State's job inquiry page and found positions open for both Dave Gent's pathology lab and Shaun Townsend's breeding program. I applied for both positions but told Dave flat out that I am not meant to be in a lab, and I think Shaun hired me without an interview after I told him I can drive tractor!"
"I went to work for Shaun, and it was an awesome experience. He's probably one of the best bosses I've ever had. He had a great way of working hard to get a job done, doing his best to make the research applicable to commercial farms, sprinkling in a lot of knowledge and science behind the scenes, and having fun. Every time someone would mess up or break something he'd yell out "that's a six pack!" meaning you'd have to buy a six pack of beer to share at the end of the day. He and I bonded so well because of our farming backgrounds, and he really started the flame for my current passion of the hop industry. Shaun was actually the first one in his family to get a college degree let alone a masters and PhD versus going back to his family wheat farm. You can tell how much he cares for the hop industry; and as a breeder, you have to have so much faith and hope that the work you're putting in every day is actually going to mean something ten years from now."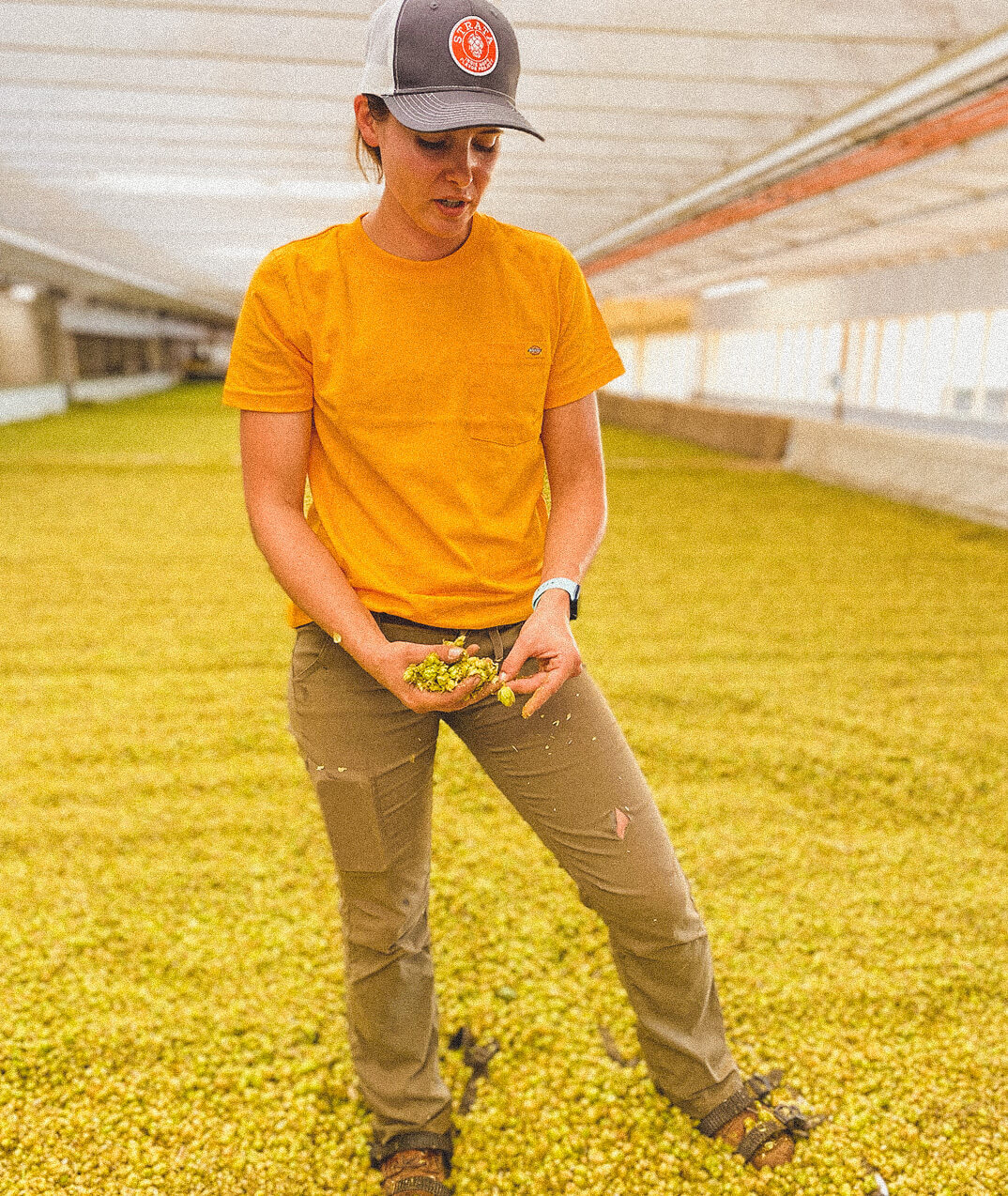 "I went to work for Shaun, and it was an awesome experience. He's probably one of the best bosses I've ever had. He had a great way of working hard to get a job done, doing his best to make the research applicable to commercial farms, sprinkling in a lot of knowledge and science behind the scenes, and having fun."
/ ALEXA WEATHERS, FARM MANAGER @ SODBUSTER FARMS
"Doing plant crosses and participating in every step to create a new plant was probably my favorite part. From pollinating the females, extracting the seed, separating viable seeds, planting the seeds, and evaluating the progress. There's so much to it! Having the understanding of the complex and lengthy breeding process has been a tool I keep in my pocket."
"My first harvest at OSU, Shaun was super excited about this one variety he had crossed. I think he jumped with excitement when he found out the yield was over eight bales to the acre. Fast forward to the following year, Shaun was beside himself because he was getting the approval to publish that variety."
It turns out that variety was Strata, and Weathers was thrilled when Sodbuster Farms had their first Strata harvest last year! "I think everyone at work has probably heard multiple times that my name is on the paper for Strata, so they're probably annoyed of it by now," she laughs and then gets serious. "It's amazing to see Shaun's hard work out in the fields next to the farm and out by where we live. Strata is an incredible variety that we actually spray the least amount because of its powdery and downy resistance which is solely attributed to the breeding program."
As Farm Manager, Weathers runs the irrigation program, helps with sustainability certifications like Salmon Safe and Global GAP, runs the dryer during harvest, and — of course — still puts her tractor skills to good use. Weathers isn't the first individual who has worked with Shaun Townsend, the geneticist who heads up the Aroma Hop Breeding Program at OSU — a program designed and fully funded by Indie Hops to feed new genotype material into our hop development efforts. Over the years, many students who have worked for Townsend have gone on to work in various aspects of the hop and craft beer industry, and are putting the skills learned to good use.
"I'll never forget my time spent with Shaun, he took me under his wing and was thrilled to show me every part of his job like he was talking to his own kid. We joked that we were a father and daughter duo, and by golly I'm proud of him like a daughter would be! I think the most important thing I learned is the balance between getting shit done and having fun," states Weathers. "There has to be a good balance between the two to bring sanity to your farm life. Farming is hard and Shaun always expressed that there needs to be designated times for us gathering together to slow down and unwind. He instilled the meaning of camaraderie amongst the group."
As demand for Indie Hops varieties grow, so does our network of exceptional growers. And we're thrilled that Strata is now being grown by a new generation at Sodbuster Farms that are not only drawing on their rich history in hop growing, but also continuing to learn and expand their knowledge base to produce the highest quality hops for brewers. We're also thrilled that Shaun Townsend, through his work in the Aroma Hop Breeding Program, is able to fuel excitement and passion for a bright and flavorful future of craft beer and hop lovers!